"Dar Ayur" boutique riad
is located in the  Old Medina of Marrakech, in the elegant Mouessine district. heart of the old town.
Very strategic position:
2mn. walk from jamel el Fna square the heart of the old city
2mn. minute walk from Koutubia symbol of Marrakech
strategic position to visit the main monuments of the city.
The arrival by taxi is in Bab Laksour
From Bab Lakour:
After the arch of Bab Laksur, take Rue Laksur to your left, right before Maison de l'Argan. Follow Rue Laksur till the arch Souk Laksour (rif. FNACQUE Berbère). To the left you find the red arch of Derb El Maaroufi. Dar Ayur is at n°3.
From Place Jemaa El Fna:
Enter Suk Laksur from Bab Fteuth taking Rue Muassine, to the Fnacque Berbère, here turn on your left, after few steps you will find the red arch of Derb El maaroufi. Dar Ayur is at n° 3
Click on the map to find us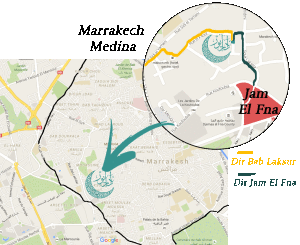 Dar Ayur – Quartier Laksur – Derb El Maaroufi 3 – Marrakech Médina
Contact:  Hamouda el Atifi & Rosso Marika
Phone fix   +212 5 24381814
Phone GSM +212 670722077
e-mail info@darayur.com