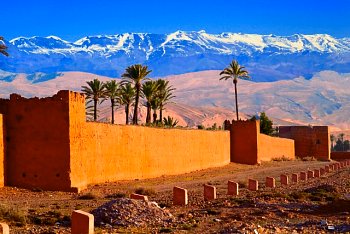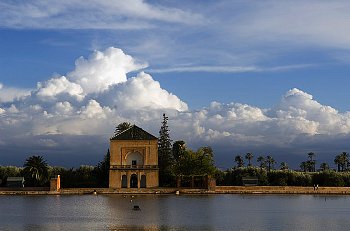 Located a the north of the foothills of the snow capped Atals mountains, the beautiful Marrakech is located 580km southwest of Tanger and 327 km southwest of the Morocco capital , Rabat.
Also known as 'the red city', Marrakech is possibly the most important of the four former's imperial cities. It was founded in 1062 and throughout the centuries it has been deeply influenced by the Andaluz style, as shown by the red sandstone walls which run around the old city.
Marrakech offers a tantalising taste of Africa within easy reach of Europe. It is today the gateway of the moroccan trade, and its dark, narrow alleyways are full of artisan workshop, shrines and sprawling markets, the endless labyrinths of souks (there are about 20 in the Medina) will always give you something to see and enjoy in this legendary city. In its beating heart, Djemaa El Fnaa square, a mix of musicians, fortune tellers, dancing cobras, storytellers and acrobats will keep the crowds entertained unitl late. Beyond old Marrakech, a modern, 21st-century city is fast developing, particularly in the pulsating district known as Guéliz. It's this contrast which makes today Marrakech so interesting
Riad Dar Ayur offers:
Excursions to Ouarzazate , Ourika Valley and the beautiful beach of  Essaouira, as well as several other day trips around Marrakech.
Official tour guides for the city of Marrakech (in french, english, italian and german).
Agreements with the best restaurants, golf courses and hammam in the city.